You may have noticed, on Sundays, I am trying to feature our strong Lutheran heritage. Today's feature is Rev. Johann Martin Brueggeman or how he was known, Martin J. Brueggeman. He followed his older brother, Ernst August into the Ministry.
I haven't researched much on his early career but his first churches were in Iowa. His final call was at Trinity Lutheran Church (a Missouri Synod Church) in Memphis, TN. The
Church's website
is FANTASTIC. Below is the information from their history section:
The rapid changes that Memphis and the rest of the Nation witnessed during America's
Gilded Age
continued unabated. The cotton industry in Memphis prospered, as did the sale and distribution of hardwood lumber. Memphis' strategic location continued to make it a major center for both railroad and river transportation. The city population continued to swell and municipal limits moved outward. As Memphis grew, so did the church, both in membership and in resources. As Trinity settled into the twentieth century, it called as its eleventh pastor,
Martin J. Brueggemann
from Fort Dodge, Iowa. Most of Trinity's pastors had been born in Germany and had emigrated to the United States. Pastor Brueggemann would be the last of Trinity's pastors to have this distinction. However, Pastor Brueggemann felt strongly in America as the
Great Melting Pot,
and felt that Trinity's ridged grasp on its German heritage and "the old ways," would serve as a detriment to Trinity's young people and a hindrance to the spreading of the gospel. It was under Pastor Brueggemann that Trinity made the switch to English. As soon as they became of age, Pastor Brueggemann's three sons changed their last name to Brugge.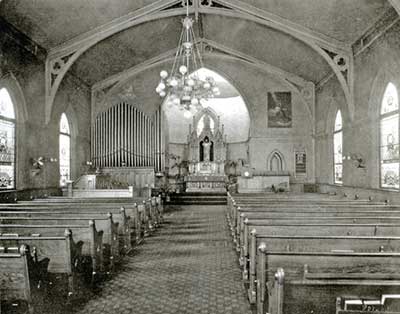 In the twenty years that Pastor Brueggemann served, a great many other changes took place. An electric trolley appeared on Washington Ave replacing the railroad. Gas lights gave way to electric ones. Trinity purchased an electric organ pump (much to the delight of the young boys of the congregation who previously were expected to crank the hand pump for each service.) A modern, central coal furnace replaced smaller wood stoves. In 1920, the ladies bought a gas oven for the busy kitchen and a Ford automobile was provided for the pastor (cost $866). In 1921, the parsonage was converted to a parish house to accommodate a growing Sunday School and a new parsonage was purchased on North Avalon St., several miles from the church. In 1924, Trinity's magnificent Moeller pipe organ was installed.
World War I hastened the integration of German-speaking people into American society and Trinity lost much of its ethnic profile. In doing so, it began to experience growth from within the community. A bible class, started by Pastor Brueggemann in 1913, grew remarkably in the twenties. In 1909, with the city expanding, need for a local Lutheran church had arisen in South Memphis. Trinity's first daughter congregation, The Lutheran Church of the Redeemer,was organized that year by families living in the Third Street and McLemore Avenue area. Some of Trinity's most active members formed the nucleus of this group. Money was contributed by Trinity (initially and annually) for its support. Another daughter congregation, Immanuel, was formed in 1924 in the Highland Heights area. Again, some of Trinity's ablest members were involved, and the mother church was supportive in the efforts to establish both a church and a Christian day school—this time, with lessons taught in English.
During the twenties, a rather close association developed among the Lutheran churches in the Mid-South region. Congregations from Little Rock and Memphis often joined in celebrating Mission Festivals, reserving several railway coaches for the group trip either to Little Rock of to Memphis. Pastor Brueggemann led his flock through much change and expansion, and no doubt he rejoiced at the generous blessings of God. He succumbed to a heart attack the day after Easter in 1927.
There is a mis-statement in the narrative. It states that he was the last German born Pastor, In fact, he was born in Cleveland to Clamor & Marie in 1870. It sure sounds like he ushered the Church into the 20th Century,