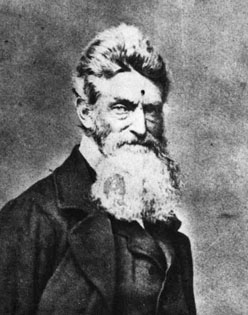 Today is the 152nd Anniversary of the hanging of John Brown. I didn't realize that he had strong connections to Akron and Summit County. From Summithistory.org:
John Brown was born in West Torrington, Connecticut on May 9, 1800. His family left Connecticut for a new life on the frontier when John was just five years old. John grew up under his father's influential Calvinist and abolitionist guidance. At the age of 37, John Brown pledged his life to the destruction of slavery. Brown advocated the use of violence or any other means necessary to achieve his goal. This condoning of violence has led many historians over the years to debate whether Brown was a martyr or a madman, terrorist or traitor. One thing is certain; he was a staunch anti-slavery activist and a member of the Summit County community for many years.

Throughout Brown's life he worked as a tanner, courier, and supervisor at his father's tannery in Hudson, OH where he met his first wife, Dianthe. Dianthe and John had seven children together and moved to Richmond, Pennsylvania to set up their own tannery. While in Richmond, Dianthe died and Brown married Mary Ann Day, a young sixteen year old who bore him thirteen children throughout her life. The family prospered until the economic panic of 1837 caused them to fall on hard times. Brown moved back to Hudson, Ohio to work for his father for a short time and farmed for Herman Oviatt in Richfield until he drew up a partnership with Simon Perkins, Jr. for a sheep and wool business venture.

Brown and Perkins had a prosperous business until a drought hit Akron in 1845. The sheep began getting sick and lightening struck Brown's barn killing a dozen sheep. Brown began traveling to try to find more sheep and better the business. Brown and his son John, Jr. settled in Springfield, Massachusetts representing Perkins and Brown, wool merchants. The older Brown boys stayed in the small farmhouse in Akron to help tend the flocks. Unfortunately, the business never fully recovered and Brown and Perkins found themselves mired in law suits and losing money. They finally terminated their partnership in 1854 after losing $40,000.

"John Brown was not only an activist against slavery, but so were many of Akron's leading citizens." - Akron Mayor Don Plusquellic at the John Brown open house

After terminating the contract with Perkins, Brown headed to the western United States Territories to help his sons fight for the antislavery movement in Kansas. Brown would return frequently to Akron to ask for money, guns, or ammunitions to fund the antislavery campaign in Kansas. The people of Akron and Summit County responded enthusiastically with money, firearms and weapons of all kinds. It was this activity that finally led Brown to gather a small group of twenty-two men to lead an attack on the Harpers Ferry Arsenal in Virginia (now West Virginia).

The plan was to raid the arsenal, seize the weapons, turn them over to local slaves and then aid them in their own uprising. On October 16, 1859, Brown and his small party succeeded in capturing the armory. For a short time, Brown and his men held off the town's people, but by the next morning word of the attack had spread and the U.S. Marines, under the guidance of Robert E. Lee, stormed the arsenal and overtook the invaders. Brown was captured, placed on trial, and sentenced to be hanged on December 2, 1859.

In Brown's old hometown, Akron, the reaction was swift and thoroughly reported by theSummit County Beacon (now the Akron Beacon Journal). The press coverage tilted heavily toward Brown's side. They called his trial "the sheerest mockery" partly because Brown was unable to even stand at his arraignment due to injury. On the day of Brown's execution stores and businesses closed and bells tolled for an hour.

"People still ask why we are showing honor to a terrorist, a murderer, a man who led a raid that resulted in butchery of five people in the Kansas territory." – Dave Lieberth, Deputy Mayor of Akron

The Harpers Ferry raid is regarded by some as the tipping point for a country teetering toward the brink of civil war. Less than two years later, the Civil War began and many Akron and Summit County families sacrificed sons, brothers, and husbands to battle validating the cause.

"Brown's capture and conviction became a rallying point for abolitionists and others hungry for war. His December 2, 1859, execution increased calls for war and had an exponential impact on that impatience. The North billed him a hero and a martyr for a noble cause, ringing their church bells on the day he was hung." – Jackie Barton, Ohio Civil War 150 Coordinator at Ohio Historical Society




On the day abolitionist John Brown was hanged — Dec. 2, 1859 — church bells rang throughout downtown Akron, flags were lowered to half staff, the courts were adjourned and stores closed.




John Brown Memorial Monument

500 Edgewood Ave.

,

Akron

,

OH

,

44307

The 100 year old John Brown Memorial honors a man hailed as a hero by some and a terrorist by others. The memorial is located within the Akron Zoo in a rugged, wooded area of the zoo property. Brown was executed on Dec. 2, 1859. He lived nearby on Diagonal Rd. during the 1840s & 1850s. It's a simple sandstone pillar, not usually open to the public.